Snap Judgments.
New Positions in Contemporary African Photography.
Edited by Okwui Enwezor. Essay by Colin Richard.
Numerous contributing photographers.
Steidl / ICP, Gottingen, 2006. 300 pp., 250 color illustrations, 9 1/2 x12 1/2″.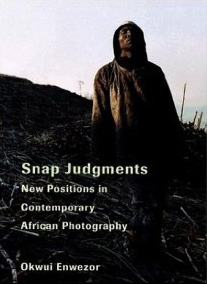 Snap Judgments is another pivotal exhibition, catalogue and contribution by Okwui Enwezor on African photography. His commitment to opening up a Western audience to this work has broadened our understanding of photography's history, in a global context. The foundations for the study of African photography by Africans are being built before our eyes. With scholarship, critique and the reworking and reconfirmation of ideas, each new exhibition builds upon the previous ones; from the Bamako exhibitions, to In/sight at the Guggenheim in 1996, to The Short Century and Africa Remix, and now Snap Judgments. Charlayne Hunter-Gault, in her latest book, New News Out of Africa, talks of the stereotypical "Afro-pessimism" Western view of Africa as a place of "death, disease, disaster, and despair." This is now giving way to a more liberated mindset that recognizes a slowly blooming African renaissance. Salah Hassan, in the catalogue for the 2001 Bamako Exhibition, also talked of an African renaissance. Enwezor is playing his own positive part in this revival by promoting contemporary photography and enabling critics to speak of this work from a more appropriate perspective. Snap Judgments brings together about 40 African photographers. One such photographer, Nontsikelelo "Lolo" Veleko, began her photography career at the Market Photography Workshop in Johannesburg, South Africa-a program founded by David Goldblatt to teach photography and visual literacy. Her work focuses on the construction of identity-black, urban, youth identity in Jo'burg. Her images are hip and contemporary. Many of the photographers included are young, and many of them are women. All the work in this book was made within the last five years and we can be assured of seeing more from these artists in the future. – Larissa Leclair
Originally published in the Photo-eye Booklist, Fall 2006.