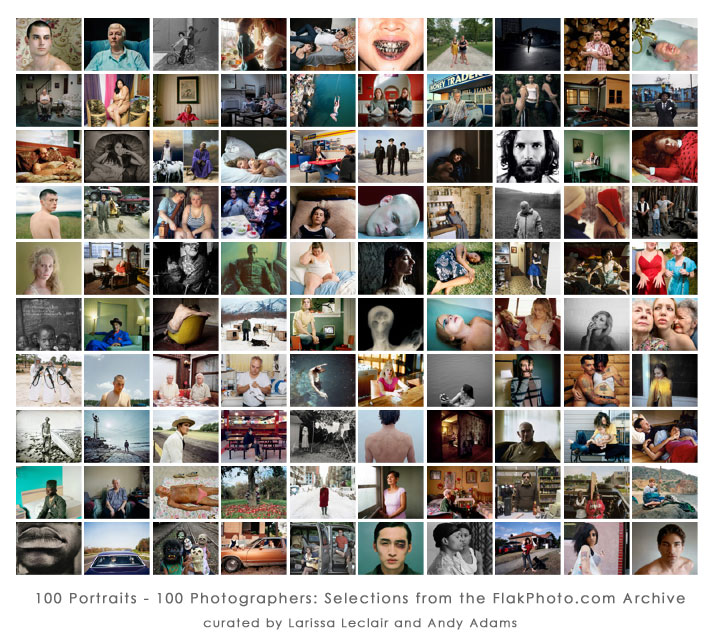 100 Portraits – 100 Photographers: Selections from the FlakPhoto.com Archive
curated by Larissa Leclair and Andy Adams
FotoWeek DC / Corcoran Gallery of Art, November 6-13, 2010
"In the blog culture of today, images and musings can get buried in the online archive of some of our favorite sites – a metaphorical pile where we often forget what is at the bottom of this digital stack. So it was with great pleasure that I was able to revisit the FlakPhoto archive with Andy Adams to select work for '100 Portraits – 100 Photographers.' It is important to take a moment and return to the archive whether that is a collective archive or the archive of your own personal work." – Larissa Leclair, from "NightGallery: Behind the Projections" curator talk, Corcoran Gallery of Art, November 6, 2010.
Curators Statement
As an added fine art component to FotoWeek DC's NightGallery projections, this screened exhibition features 100 dynamic portraits from an exciting group of contemporary photographers in all stages of their careers, each selected from the digital archive on FlakPhoto.com. Our decision to highlight work from this website celebrates the role that a thriving online photography community plays in the discovery and dissemination of work produced by significant artists in the Internet Era.
Contemporary photo culture is marked by a continuous flow of images online, and our aim is to take a moment to recognize some of the noteworthy photographs published in this ever-expanding archive over the past four years. In this context, projected several times larger than life, these portraits look back at us and embody a louder voice in the discourse of the gaze.
Contributing Artists
Sincere thanks to each of these photographers for being part of this exhibition!
The FotoWeek DC projection screened throughout Washington, D. C. during the week of the festival at several exhibition venues: on the exterior of the Corcoran Gallery of Art, in the Satellite Central projection theater, at Dupont Circle and on screens fixed to trucks traveling throughout the streets of the city.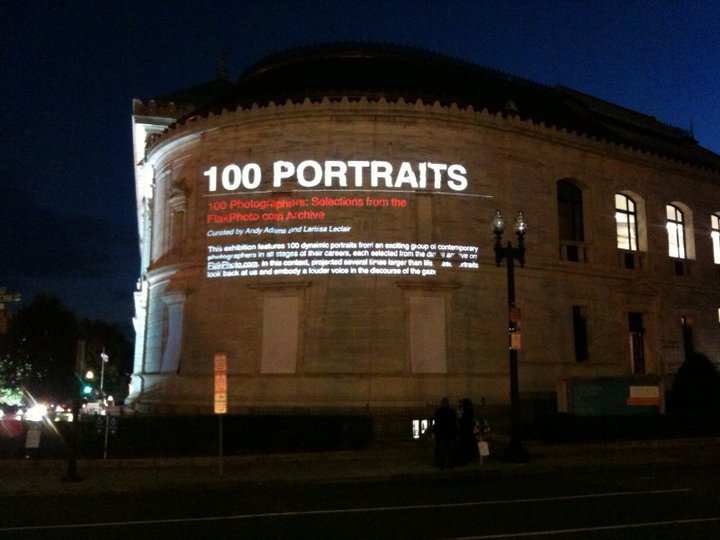 See more photos from the Corcoran Gallery of Art.
Since Andy Adams launched the online component to our exhibition in early November, "100 Portraits" has been viewed by more than 30,000 visitors from 24 countries and the project has been featured in Wired Magazine, The New Yorker, National Public Radio, aCurator.com and The Washington Post. Thank you to everyone who featured "100 Portraits." See the press recap here.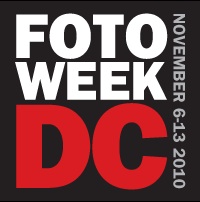 ---
Permanent Impermanence
an exhibition curated by Larissa Leclair
featuring photographs by Christopher Colville, Todd Hido, Kate MacDonnell, David Maisel, Curtis Mann, and Doug + Mike Starn
June 11-July 9, 2010
Opening Reception: Friday, June 11, 6-8pm
Exhibition Hours: Monday-Friday 11am-5pm
Location: Washington Project for the Arts (WPA)
2023 Massachusetts Avenue, NW
Washington, DC 20036
202.234.7103
(map)
The WPA is pleased to present the exhibition Permanent Impermanence. This project is part of the WPA's Coup d'Espace series which invites member artists and curators to stage their own exhibitions an programming in its Dupont Circle space.  Come enjoy some great photography! Permanent Impermanence explores fundamentals of the photographic medium, through artistic expression in both subject and process. The exhibition will include works by
Christopher Colville from his Emanations series;
Todd Hido from A Road Divided;
Kate MacDonnell from 100 Ways;
Curtis Mann from Modifications;
David Maisel from History's Shadow; and
Doug + Mike Starn from alleverythingthatisyou.
---
---
NOSTALGIA
Juror: Larissa Leclair
The Vermont Photography Workplace / PhotoPlace Gallery
DEADLINE: March 1, 2010
Statement from Gallery:
"Photography is an art of the instant, of Cartier-Bresson's "decisive moment." But it is also an art of past moments – records of slices of time that no longer exist. In this juried exhibition, NOSTALGIA, we are interested in photographs that investigate aspects of past time, memory, and public or personal histories. For example, photographs can allude to the past through process, by using antiquated technologies such as the tintype; through subject, by focusing on objects or people with the aura of long ago; through place, by picturing places that have private or well-known memory associations."
Information on how to submit work can be found on the the Vermont Photography Workplace / PhotoPlace Gallery website. Deadline is March 1, 2010.
Thoughts on Juried Exhibitions by Kirsten Hoving, Co-Director of the Vermont Photography Workplace /PhotoPlace Gallery
---
CHRISTOPHER COLVILLE
curated by Larissa Leclair
November 4 – December 11, 2009
Opening Reception: Thursday November 12, 2009, 6-9pm
In his first solo show in Washington, D.C., Christopher Colville, an Arizona-based photographer, explores the themes of time as manifested in death and memory in a selection of work curated by Larissa Leclair from his series Emanations, Iceland Trilogy, and Sonoran Project.
Christopher Colville is a photographer who pushes the boundaries of the medium. He embraces traditional and experimental processes, such as photograms, ambrotypes, and decay-generated images in his contemporary photographic work.

©Christopher Colville
This selection of work, seen together for FotoWeek DC, explores the cycle of life, the passage of time, history, and the landscape that embodies us all.
Christopher Colville is a photographer and teacher at Arizona State University. He has been awarded a 2008 Artist Project Grant from the Arizona Commission on the Arts and a 2008 Public Art Commission from the Phoenix Commission on the Arts as well as an American Scandinavian Foundation Fellowship in 2006 to photograph in Iceland. Colville was also awarded the Van Daren Coke/Beaumont Newhall Fellowship in 2003. He holds an MFA in Photography from the University of New Mexico and a BFA in Anthropology and Photography from Washington University in St. Louis, Missouri. UPDATED: Recently he received the 2009 NPG from the Humble Arts Foundation for his series Instar.
Hosted by Insomniac Design, a web design and development firm in DC, in conjunction with FotoWeek DC, a 501(c)3 nonprofit organization founded in 2008 whose mission is to celebrate the power of photography and to unite and strengthen the Washington DC photography community.
Read more about the exhibition.

---
Lecture by DARIUS HIMES
Hosted by Larissa Leclair and Insomniac Design
November 12, 2009, 5pm
"Who Cares About Books?"
Interest in photography books has never been greater, with artists, photographers and curators seeing the book as the central form of expression for their work. Publisher and critic Darius Himes talks about the landscape of photobook publishing as it stands today, highlighting some of the most interesting small publishers and discussing the ramifications of print-on-demand technology.