Nazar: Photographs from the Arab World.
Noorderlicht Festival Catalogue. Edited by Wim Melis. Essays by Michket Krifa, Negar Azimi, Issam Nassar, Isolde Brielmaier, Issa Touma, Peter Lewis and Sherifa Zuhur.
Aperture, New York, 2005. 268 pp., 168 color and 132 duotone illustrations, 9x9″.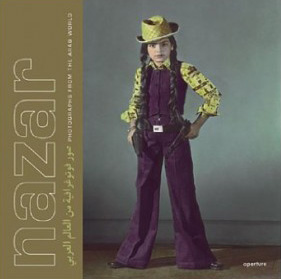 Envisioned and curated by Wim Melis, the 11th Noorderlicht Festival in the Netherlands last year brought together over 50 photographers to exhibit work. The topic – photography of the Arab world; the photographers – those living in the Arab world, its diaspora, and Western photographers who have worked extensively in the region. Nazar: Photographs of the Arab World, published by Noorderlicht and Aperture, is the accompanying hardbound catalogue. The catalogue begins with seven essays written by international scholars including Issa Touma, director of the International Photography Festival in Aleppo, Syria. The harbinger essays are prolific, insightful, and provide a cultural and theoretical framework for viewing the three sections of photographs that follow. In "Arab Eyes," the contemporary Arab photography presented is politically challenging, personal, provoking, and diverse. "A Look Back," showcases work by Van Leo and the Arab Image Foundation. The last section, "Western Eyes," provides an outlet for longer photo essays that surpass the cursory stories found in the news. This spearhead publication brings to light scholarly text and photographic work from the Arab world and creates a more comprehensive world history of photography than the traditionally Eurocentric version. Nazar means "seeing, insight, reflection" and that is exactly Melis' intent. The Western world's existing views and perspectives of the Arab world should be challenged and this collection of photography begins to undertake this challenge. The exhibit, Nazar: Photographs from the Arab World, comes to the new Aperture Gallery in Chelsea in early September 2005. – Larissa Leclair
Originally published in the Photo-eye Booklist, Fall 2005.