The image above by Isa Leshko from her "Thrills & Chills" series reminds me of the image by Robert Adams that begins his revised and expanded edition of "Summer Nights, Walking." I originally saw Adams' image in the exhibition "In the Darkroom" at the National Gallery of Art and sought out his book just for that one image.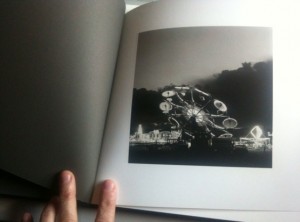 I had hoped for more of the same, but for those who know this series, the amusement ride image seems an outlier. For Leshko, though, these rides are the focus.
Isa Leshko's solo exhibition "Thrills & Chills" is currently on view at the Houston Arts Alliance, co-organized by the Houston Center for Photography and the John Cleary Gallery, and includes twenty-one prints from the series. The exhibition runs through December 31, 2010. space125gallery, 3201 Allen Parkway, Houston, TX 77019
About this work Leshko writes, "[a]musement park rides terrify me, which is why I began photographing them. I am fascinated by what compels people to surrender themselves to these mechanical beasts. The rides seem to challenge the very limitations of being human. We can't fly; yet these vertigo-inducing machines allow us to soar through the open air. The experience combines elation with fear; thrills with chills.
These images explore the fantastic and sinister place these rides hold in my imagination. With some of these images, I suspend disbelief and embrace the underlying fantasies of these rides. With other images, I examine the tensions that exist between fantasy and reality. I am interested in exploring the range of emotions—from anger to shock to exultation—that people exhibit in pursuit of the amusement these rides are supposed to provide."
To see more work from "Thrills & Chills" visit Leshko's website as well as the John Cleary Gallery. There is also a collectible little limited edition book available of this work.