Out of all the events and images in a recent Corcoran Gallery of Art e-newsletter, there was one photograph (shown above) that just totally engaged me. I had to know more about the image and the photographer. So I caught up with Tucker Walsh, a photojournalism student at the Corcoran College of Art & Design, currently in his sophomore year, to find out more about Flood and what it's like to be a student these days. Walsh won first place in the amateur category for FotoWeekDC/Newseum's FOTOBAMA Contest and his work was recently included in the Corcoran Undergraduate Juried Exhibition by Jose Dominguez. He is definitely someone to watch.
Larissa Leclair: How did you get into photography?
Tucker Walsh: I took a few basic photography classes in high school and a couple workshops during my summer breaks. When I was sixteen, I spent a month in Asia with Rustic Pathways on a trip that was geared towards young photographers. I would say that was when I first found my voice as a photographer.
LL: How is it being a student at the Corcoran?
TW: The Corcoran College of Art & Design, in the same building as the Corcoran Gallery of Art, is very small – around 400 students – which allows for lots of one-on-one attention with your professor. The best part is just living and learning in D.C.. I ride my bike past the White House every day to get to class. Talk about some good motivation!
LL: I wonder if websites and blogs are integrated into your curriculum. Are there some that are required reading? Do professors encourage students to have a blog?
TW: This semester we were actually all assigned to create a Twitter account, so we could use social media's power to communicate outside of class. I have come to really appreciate what something like Twitter can do. But overall, our professors mainly assign books and news articles to read. I would highly recommend  Photojournalism by Ken Kobre. It's basically the textbook for photojournalists. I have a blog. It is a lot of fun but also a lot more time consuming and stressful than I anticipated. I started it thinking I would put up photographs and work that wasn't strong enough to be on my website but was still worth sharing with friends, family, or classmates. It's now turned into basically a second website. I'm thinking about scrapping my website and just using the blog format as a work showcase. This would allow for much more viewer interaction, with commenting, social media, photo rating, etc.
LL: What blogs do you read?
TW: NYTimes Lens, NPPA's Visual Student, Prof. Kobre's Guide to Video Journalism, Multimedia Muse, PhotojournalismLinks.com, Burn Magazine, MediaStorm, Huffington Post, and NPR's Picture Show.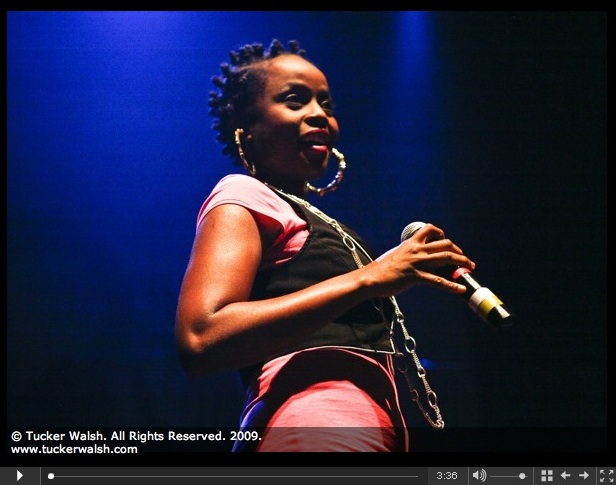 LL: On your website you call yourself a visual journalist. Why the distinction from photojournalist?
TW: Ultimately, I hope to produce long-term, web-based documentary projects that use still images, video, web design, graphics, text, audio, etc. to tell the story. When I think of photojournalism, I think of a single image on the front of a newspaper, or perhaps a six image picture story in a magazine, or even a two-minute audio slideshow on a newspaper website. My goal is to take a step back from the 24-hour news cycle and combine the visual brilliance of Ron Fricke with the quality storytelling and journalism of NPR. A good example of this is"Ian Fisher: American Solider." Another example is Scott Strazzante's "Common Ground"  on MediaStorm. I find it is a more in-depth and rounded look at a story that we often only hear about in small pieces. So to answer your question, I think the name "visual journalist" is more open-ended and mindful of the changes that need to take place in the industry. But hey, it's just a name!
LL: Okay, so tell me about the flood photo that made me track you down?
TW: I took the flood photo last summer while I was doing an internship at The New London Day newspaper in Connecticut. I talk about it on my blog. (Read the entry here.) I submitted that photo and two others to the annual Corcoran College Undergraduate Juried Exhibition, and I was honored to receive "First Place" for the flood image. Another photo of mine, from a Barack Obama rally, was also in the exhibit, along with some truly amazing work from other Corcoran students.
LL: And tell me about the FotoWeek DC winning photograph (shown above).
TW: The photograph that won first place in the amateur/student category of FotoWeek DC's "FOTOBAMA Contest" was taken on election night in front of the White House. My friends and I were all watching the numbers come in on CNN, and when the news broke that Senator Obama would become President Obama, we immediately jumped up, grabbed our cameras, and dashed down Pennsylvania Avenue to the White House. There was only about one hundred other college students there when we arrived. However, within half and hour's time, there was well over a thousand people right in front of the White House, all of whom were going absolutely crazy, jumping up and down, dancing, singing, and screaming. It was also raining, which added to the insanity! I ended up staying down there till 4:30 am, snapping photos and taking in the pure joy that seemed to unite all of DC for a short period of time. The shot that won the FotoWeek contest was of an African-American man crowd surfing with two peace signs in the air directly in front of the White House. I was shooting with a wide angle lens at 3200 ISO with a Canon 20D, so the final image was very noisy, blurry, and cropped to correct a heavy tilt (I was taking photos while dancing). In a way, however, the quality of the image reflected my memory of the event. The whole night was a giant blur of craziness and celebration. I converted the image to black&white to give a sense of memory and timelessness. The winning images from the contest are currently up for display above the Crystal City metro stop.
LL: What are you working on now?
TW: I am in the process of applying to Salt Institute For Documentary Studies in Portland, Maine. If accepted, I will spend my next fall semester there. Salt is a small, private institution that has three tracks: photography, radio, and writing. Students spend the entire semester documenting one photo story, as well as one story in collaboration with a writing student. I was born in Portland and consider myself a "Maineiac" at heart, so the idea of spending an entire semester documenting stories there really excites me!
LL: Last question, what photojournalists do you admire/follow?
TW: The bodies of work that inspire and motivate me on a daily basis are David Burnett's "44 Days In Iran," Pam Spalding's "An American Family," Edward Burtynksy's "Oil," Ed Kashi's "Oil in Niger Delta," Ernesto Bazan's "Cuba," and Jenn Ackerman's "Trapt." The list could go on and on…Ami Vitale, Adam Ferguson, Charles Ommanney, Jonas Bendiksen…Then there is Henri Cartier-Bresson, Sebastiao Salgado and James Nachtwey who are just magicians at what they do. Documentary films have also influenced me just as much still images have. Some that I would recommend to photographers are Grizzly Man, Baraka, Born Into Brothels, The Cove, War Photographer, Cry of the Snow Lion, and War Dance.
LL: Thank you Tucker.
Check out Tucker Walsh's website and blog.
Follow Tucker on Twitter @PJ_Tucker.