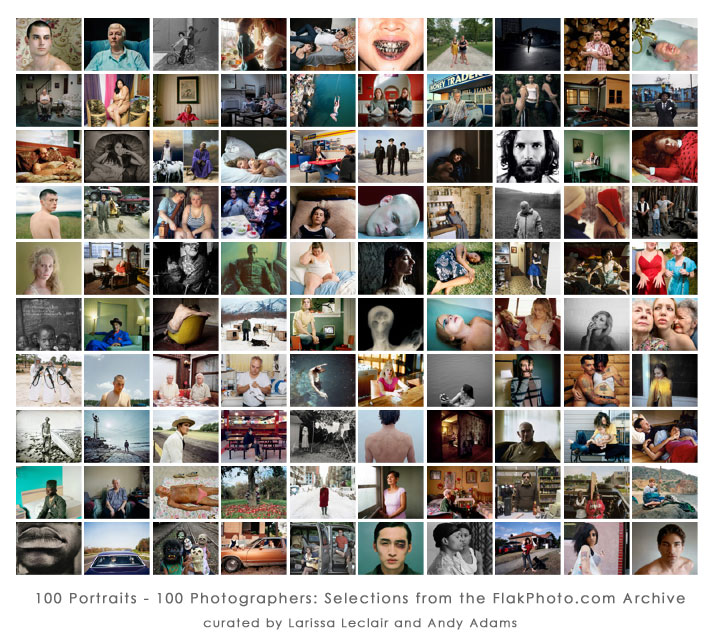 "In the blog culture of today, images and musings can get buried in the online archive of some of our favorite sites – a metaphorical pile where we often forget what is at the bottom of this digital stack. So it was with great pleasure that I was able to revisit the FlakPhoto archive with Andy Adams to select work for '100 Portraits – 100 Photographers.' It is important to take a moment and return to the archive whether that is a collective archive or the archive of your own personal work." – Larissa Leclair, from "NightGallery: Behind the Projections" curator talk, Corcoran Gallery of Art, November 6, 2010.
100 Portraits – 100 Photographers: Selections from the FlakPhoto.com Archive
curated by Larissa Leclair and Andy Adams
FotoWeek DC / Corcoran Gallery of Art, November 6-13, 2010
Curators Statement
As an added fine art component to FotoWeek DC's NightGallery projections, this screened exhibition features 100 dynamic portraits from an exciting group of contemporary photographers in all stages of their careers, each selected from the digital archive on FlakPhoto.com. Our decision to highlight work from this website celebrates the role that a thriving online photography community plays in the discovery and dissemination of work produced by significant artists in the Internet Era.
Contemporary photo culture is marked by a continuous flow of images online, and our aim is to take a moment to recognize some of the noteworthy photographs published in this ever-expanding archive over the past four years. In this context, projected several times larger than life, these portraits look back at us and embody a louder voice in the discourse of the gaze.
Contributing Artists
Sincere thanks to each of these photographers for being part of this exhibition!
The FotoWeek DC projection screened throughout Washington, D. C. during the week of the festival at several exhibition venues: on the exterior of the Corcoran Gallery of Art, in the Satellite Central projection theater, at Dupont Circle and on screens fixed to trucks traveling throughout the streets of the city.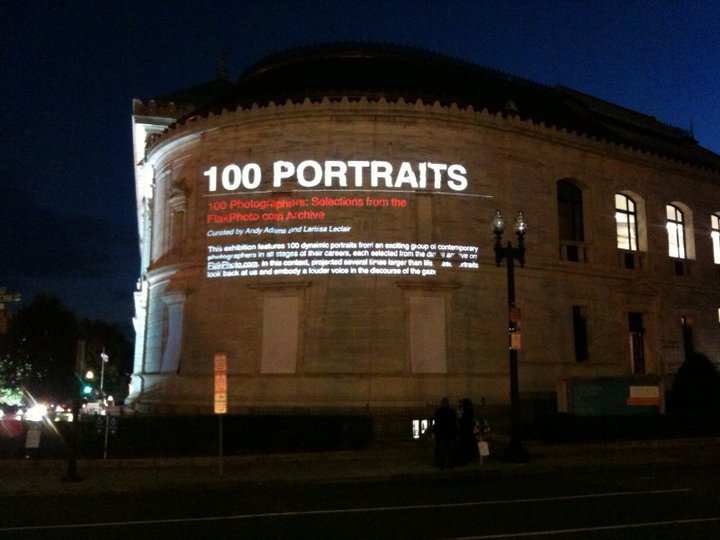 See more photos from the Corcoran Gallery of Art.
Since Andy Adams launched the online component to our exhibition in early November, "100 Portraits" has been viewed by more than 30,000 visitors from 24 countries and the project has been featured in Wired Magazine, The New Yorker, National Public Radio, aCurator.com and The Washington Post. Thank you to everyone who featured "100 Portraits." See the press recap here.